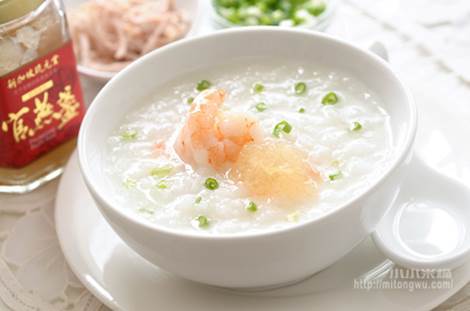 Bird's Nest Shrimp Porridge
Ingredients
- 2 tablespoons of Lau Yuen Tong Premium Bird's Nest

- 10 fresh shrimps.

- A little salt and white pepper to marinate with shrimp

- Spring onion for garnishing

 

Porridge base:

- ½ cup of rice

- 1 piece of ginger.

- 100g of lean pork

- 1/2 teaspoon of salt and 1 teaspoon of rice wine to marinate pork

- 5 – 7 cups of water

 
Method
1. The day before cooking, rinse the lean pork before marinate it with rice wine and salt. Refrigerate the marinated pork overnight
2. The next day, rinse the marinated pork to remove the salt before cooking it with porridge
3. De-shell the prawn and clean it with salt and potato starch. Use the kitchen towel to absorb the water content in the prawn
4. Add salt and white pepper onto the prawn before putting in the refrigerator
5. Place water, ginger and the marinated pork into the pot and cook until the pork de-colored
6. Add in the white rice once the water boil
7. Reduce the flame level while taking out the pork from the porridge. In the process, keep stirring to prevent the porridge get burnt
8. Put the shrimps into the porridge for it to cook
9. Add Lau Yuen Tong Premim Bird's Nest and garnish with spring onion to complete the meal
Credit: @小小米桶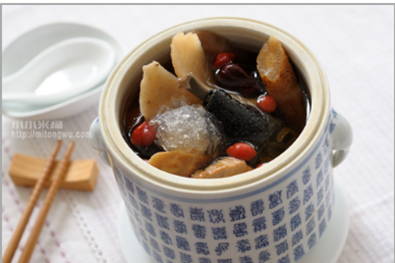 Dangshen Huaishan Yanqi Wuji Black Chicken Soup
Ingredients
- 2 tablespoons of the Lau Yuen Tong Premium Bird's Nest

- Half a black chicken

- 50g of lean pork meat

- 15g of codonopsis

- 15g of huaishan

- 15g of dried tangerine peel

- 10g of wolfberries

- 5 red dates

- 500ml of boiling water

 
Method
1.Soak Huaishan into the water for 2 hours. Change the soaking water 2 – 3 times during the process.
2.Cut the black chicken into big pieces, then place it together with the lean meat into a pot of water. Bring the water to boiling. Once is boiled, cook for 1 minute before draining off the water with impurities.
3.Once the tangerine peel has softened, scrape peels using a knife or a spoon
4.Slice the codonopsis into small pieces after rinsing. Then rinse the red dates before removing its kernel. Rinse the wolfberries too.
5.Put all the ingredients into pot and add-in the boiling water.
6.Place the pot in another pot of boiling water to double-boil for 2 hours.
7.2 hours later, scoop Lau Yuen Tong Premium Bird's Nest into the soup
8.Cover the lid and allow for another 5 – 10 minutes of steaming before is ready for serving.
credit: @小小米桶